Welcome Back 3M Open Fans!
Thanks to our title sponsor 3M, here are some ways we're helping to make this a safe experience for you: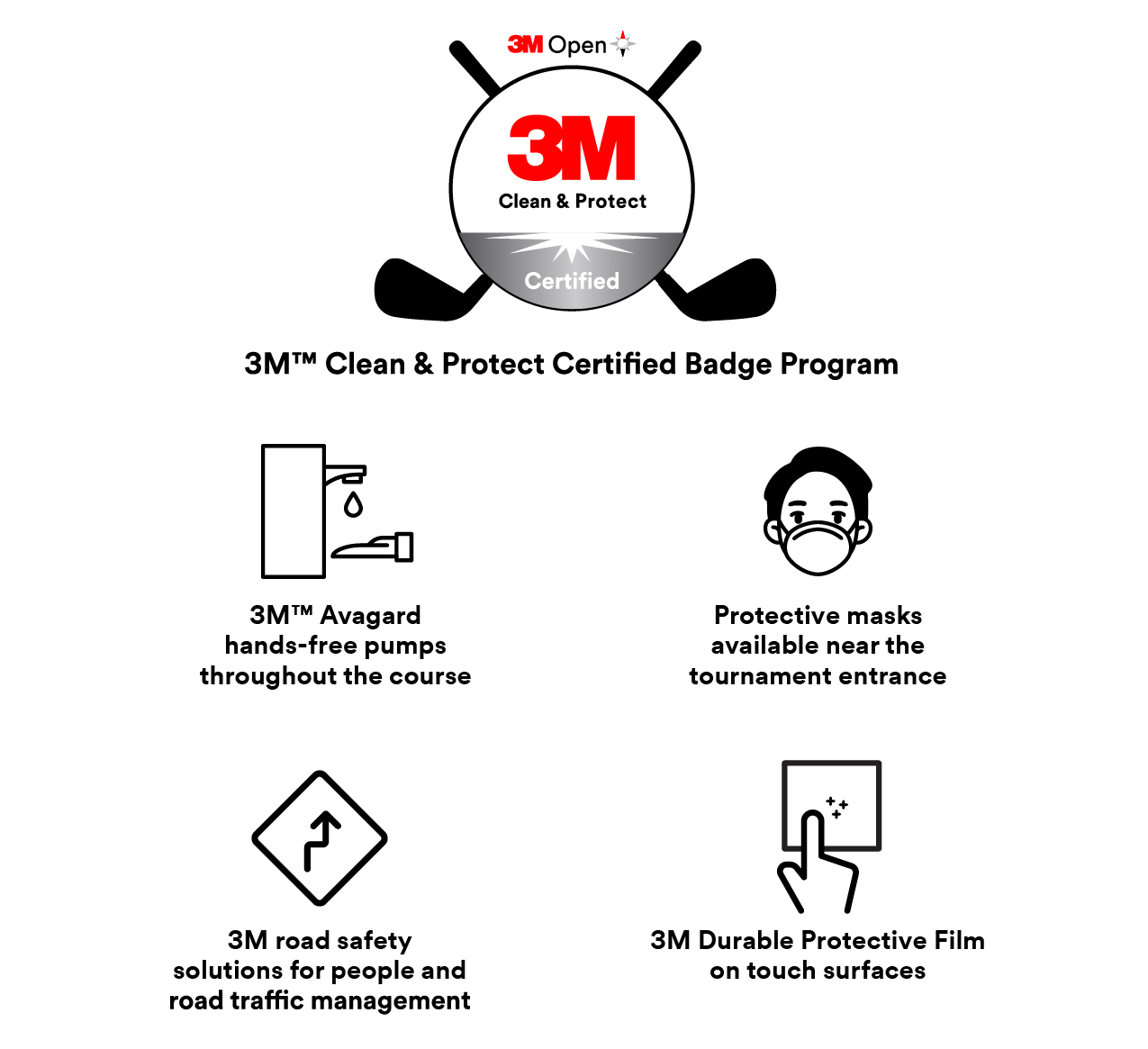 Gate Hours
Tuesday: 8 AM & Wednesday - Sunday: 6:30 AM
Course Map
Click Here for a downloadable course map
Mask Policy
Fully Vaccinated Individuals:
Per CDC guidelines, fully vaccinated individuals are not required to wear a mask indoors or outdoors unless otherwise mandated by state or local law or regulations.
Unvaccinated Individuals:
Per CDC guidelines, unvaccinated individuals should wear a mask indoors at all times and outdoors when they cannot be social distant or otherwise mandated by state or local law or regulations.
Individuals are considered fully vaccinated:
2 weeks after their second dose in a 2-dose series, such as the Pfizer or Moderna vaccines, or
2 weeks after a single-dose vaccine, such as Johnson and Johnson's Janssen vaccine
For clarity, the second dose with Pfizer or Moderna or single dose with J&J would be considered Day Zero and fully vaccinated would be considered on Day 15.
If you do not meet these requirements, regardless of your age, you are NOT fully vaccinated. As such, you should be taking all necessary precautions and following CDC guidance.
Prior To Arrival
Those who feel ill or are experiencing symptoms of COVID-19 will not be admitted to the 3M Open. For more information on symptoms and procedures for those experiencing them, please visit the CDC's website, which can be found here.
Please be sure to refer to the PGA TOUR's Prohibited & Permitted Items before attending the 3M Open.
Parking & Shuttles
General parking is available at the National Sports Center. Click Here to buy parking passes before you arrive.
Suttles will run from the National Sports Center to TPC Twin Cities. Shuttles will run at 100% occupancy.
Tuesday: 7:45 AM & Wednesday - Sunday: 6:15 AM
Rideshare Info
The drop-off point is located at the National Sports Center. Shuttles will then take you to TPC Twin Cities.
Special Services
Handicap parking is available at the National Sports Center. ADA buses will also be available at the National Sports Center.
Arrival
Upon arrival to the event, each guest will proceed through standard security checks and bag search in a safe and socially distant manner.
Digital Ticketing & Contactless Admissions
Tickets can be purchased online; there will be in-person box office sale as well. Guests are required to present a valid digital ticket to enter tournament grounds via contactless admissions process. For help with your digital ticket, please click here.
Please save your digital ticket to your Wallet app on your phone to allow for easy access to tickets upon arriving at the gate. Guests will proceed through the gates once a valid scan has been registered. Please practice social distancing when queuing for entry. To see full PGA TOUR ticketing Terms, please click here.
Will Call
There will be no option for will call at the 3M Open. Guests are strongly encouraged to distribute tickets through the digital platform. Additional assistance will be provided at the main entrance.
Contactless Payment
In partnership with Mastercard®, the Official Payment of the 3M Open, there will be contactless payments across key point of sale locations on-course so guests can purchase the things they love using a safer cashless method in a clean environment. Guests are encouraged to "tap-and-go" with their contactless credit card at checkout in concessions and fan shop. No cash will be accepted onsite.
Autographs
PGA TOUR players can't wait to see guests back on-site, but please understand, for the health and safety of everyone on property, no handshakes, fist bumps, selfies or autographs are permitted at this time. Please respect their space and watch your distance.
Feeling Ill On-Site
If you begin to feel ill or have symptoms after arrival at the event, go directly to a First Aid tent. Tents can be found near 7 Tee, 16 Green and the Clubhouse. Medical professionals are ready to assist you in accordance with their COVID-19 protocols. There will be an isolation tent available if needed.
Mobile Device Policy
Effective immediately, spectators are now allowed to take photos all week with their mobile devices throughout the golf course, except in areas of competition during official rounds or when requested by players, security, and TOUR officials to refrain from taking a photo. Receiving or placing phone calls will remain limited to designated "Cell Phone Zones." Reminder: Cameras are NOT allowed Thursday – Sunday (no cameras during competition rounds).
Devices must be on silent at all times; flash may not be used.
Devices may be used to capture video, audio, and photos (content) in all areas throughout tournament week.
Content may be used for personal purposes (e.g., personal social media); no commercial use.
No live streaming or real-time coverage (e.g., no shot-by-shot coverage).
Data use (e.g., texting) is permitted in all areas throughout tournament week.
Phone calls are allowed only in designated areas.
Please be respectful of play and do not interfere with players, caddies, or media.
All posted signage and instructions from tournament staff must be observed.
Failure to comply with this policy may result in the revocation of your ticket.
The Final Putt
Once the final putt drops, please exit the tournament venue safely and patiently.
Finally, at all times, please adhere to course-wide signage and ask a 3M Open volunteer or staff member if you have questions or concerns.